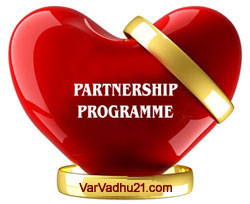 Welcome to VarVadhu21.com - Business Associates Program
The program is open to all who are willing to earn name-fame-money. You can participate in this program if you have access to computer in any way. The program is ideal for all the Marriage Bureaus - full time or part time, Cyber Cafes or Individuals (housewives and retired people.) We provide Online & Offline Matrimonial Service at "Lowest Prices - Just in Rs. 21" to our Users, and We also Offer Highest Commission (71%) to all our Franchisee/B2B Partners.

Now We are looking to appoint Local Franchisee Partners/B2B Partners across India. Local Franchise should be looking for Long Term Returns from the Franchise Business.




Matrimonial Business - How to Start and Make Name, Fame and Money....
So you are looking to start your own matrimonial business? But don't know where to start?
Then here is the complete guide for you.
When someone started thinking of about starting a new business, the first thing that comes to their mind is, what will be the scope of this business? or how much return I get from that business? Of-course that will be the good question when you have to ask it before starting any business. When it comes to the matter of the matrimonial service? The scope of business is broad and the interesting fact is the need of the service will grow with time. Let's do the simple math, For every year there will be one out of 1000 in the population get married (whether it's a Boy or a Girl). So let's calculate scope of the business. E.g

India has the population of 120 crores(1200 Million). 1200000000= 1200000 Thousand

So every year there will be 12 Lakhs of people getting married in India alone.


VarVadhu21.com - Offline Points (Local Franchisee Partners/B2B Partners)
They are now considering turning to the Internet - they've heard of these huge databases of prospective brides, available at the press of a button. Trouble is, the lot of people aren't computer literate, nor do they have access to the Internet. That's the cue for the entry of for you, you can partner for our offline points. At Offline Point, trained staff will help to anybody navigate the information highway, post their details and search the available databases for suitable matches.

The organised matrimonial business in India is worth about Rs 1,000 crore (Rs 10 billion). Until a few years ago, it operated mainly as a loose network of friends, astrologers, family priests and so on.

We are looking to housewives and retired people to help expand our business. Offline centres are most likely to be visited by parents of prospective brides and grooms.

It was felt that this our group would probably be more comfortable knowing an older person was in charge of the points; women, in particular, would be better equipped to deal with sensitive issues like marriage, and offer personalised advice to parents.

Local B2B Partners who better understand the requirements of parents help customers feel at ease and reassured of the services available at our offline points.

The franchisee model for VarVadhu21.com works on a 71:29 revenue sharing basis. 71% for Partners, it's a big deal.

If VarVadhu21.com talks to individuals, VarVadhu21.com Point talks to their parents. Both services have their own advantage.

VarVadhu21.com Point helps parents do a reality check - information here is more on family background, income and so on.

Our aim is to help parents find a suitable match for their children through a wide database on Just from Rs.21.

At our offline points, parents are taken through the profiles personally and are given printouts of the selected profiles, complete with verified contact details.

The idea now is to club the online and offline services by offering combined services and thereby increasing their visibility.


E-mail : b2b@varvadhu21.com
or
Call : 88-1800-1130